I am guilty of calling anything Salt Lake City "Mormon". The Olympics in 2002 were the Mormon Olympics for me. And the Great Salt Lake Council of the Boy Scouts of America, for all intents and purposes, is the Mormon Boy Scouting Council as far as I am concerned.
With my bias in mind, and with an established disclaimer that I understand that the LDS organization doesn't run or operate the local Boy Scouts, I report that Utah's Great Salt Lake Council of the Boy Scouts of America is urging the national scouting organization to continue its current policy of restricting membership to the based on sexual orientation. No Gays.
I think the one in back just winked at me.
First, I roll my eyes. How many scouts and scout leaders are gay, or have gone through the system already having been gay. Me for one. I didn't molest anyone or mention my preference. I am not a pedophile.
Second, I look closer at the report and read that the local BSA would like to continue its national policy to prohibit openly gay members and Scout leaders - a policy that the US government has recently rejected for the men and women serving in the military.
Apparently, the council has cited a recent study claiming 88 percent of parents of boy scouts agreed with their current policy, with references made to a 2000 Supreme Court decision upholding it's right to set membership criteria.
Of coerce,I don't disagree that the BSA has the right to decide. I disagree with the stance they have taken,l and wonder out loud how long it has been that they stopped exercising the "right" to allow black men and boys into the group.
"The Great Salt Lake Council opposes any change to the current membership policy without complete and open discussion and deliberation with professionals, volunteers, parents, chartered partners, and all other stakeholders of the organization," the council said in prepared remarks. "We reaffirm the mission of the BSA, which is 'to prepare young people to make ethical and moral choices over their lifetimes by instilling in them the values of the Scout Oath and Law.' "
And, as we all know, there is no homosexual alive that can make an ethical choice, or a moral decision. Let me gag now.
The policy that has been proposed nationally would put an end to excluding openly homosexual boys or leaders and allow the local organizations to decide for themselves who to allow to join them, negating any national policy regarding sexual orientation. This would allow members and their parents to shop around and find a troop that fits their needs.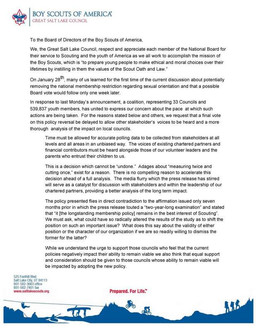 I would like to take this to the next level, allowing it to come to it's own logical, yet absurd conclusion.
One: We don't allow boys men into the scouts. Without sensitive leadership, boys lean towards ideals set by patriotic organizations, like the Klu Klux Klan, and regress to a point where no one is able to sew a badge onto a uniform. Badge less, wearing beaver pelts, they all vote republican. Or
Two: We divide up our teams, and the Lehi scouts, allowing gays and fed up with discrimination, beat up the Clearfield Scouts, who decided to "just say no to homos". No one challenges them because they are just too freakin' mean, and the national organization sells the franchise to the WWF for millions.
Either way, we are screwed. So, I say, maybe we should error on the side of kindness, understanding and civility.